If you follow my blog on a regular basis, you will have noticed that I personally focus more on fighting arts from Southeast Asia.
But the Chinese martial arts, such as, Kung Fu, Wushu, Sanda or Tai Chi are also very popular in the West. Many athletes and martial artists dream of traveling to China to train  in one of the Kung Fu monasteries or schools.
Of course, there are several ways to train in China, as I have already presented to you in an article, last year. However, one has to say that many of these possibilities are hard to find or to book, if you do not have Chinese language skills.
In this article, I would like to introduce you to a school of martial arts in the middle of the Yuntai Mountains for Shaolin Kung Fu, Wushu, Tai Chi, Qi Qong and Sanda (Chinese Kickboxing).
Foto Credits: shaolin-yuntai.com
YunTai Shan International Culture and Martial Arts School
The YunTai Shan School was founded by Master Xie Xu Yong, who has several years of experience teaching international students in Shaolin Kung Fu. In order to implement his own ideas and to meet the requirements of the pupils from all over the world, the school was built according to the latest standards in the YunTai mountains.
Learn Martial Arts
Shaolin Kung Fu
Shaolin Kung Fu is probably the best known and most popular Chinese martial art, that we know in Western countries. The Shaolin style includes combat techniques, acrobatics as well as a high degree of body feeling and control.
Shaolin Kung Fu includes unarmed defense, as well as weapons. There are numerous motion sequences, for example with the stick, spear, saber, Chinese sword and many different other weapons. Particular attention is paid to the accuracy of the movements. Another part of the training are Sparrings with and without weapons, in which the learned techniques in a safe environment are tried out.
-> More: Shaolin Kung Fu
Foto Credits: shaolin-yuntai.com
Wushu
Basically, Wushu is an embodiment of all traditional Chinese martial arts. There are two forms of Wushu. The Taolu, which deals with forms and movements and the San Da, which is a full contact contest.
Styles of modern Wushu include:
Wushu fist forms:
Changquan (Long-fist)
Nanquan (Southern-fist)
Taijiquan (or Tai chi chuan) (Taiji fist)
Short Wushu Weapons:
Dao (saber)
Jian (sword)
Nandao (Southern Saber)
Taijijian (double-edged Taiji sword)
Wushu long-sleeved
Gun (stick)
Qiang (Spear)
Nangun (Southern Stick)
These are the basic forms and elements. The YunTai Shan School also offers all the advanced forms, so that modern Wushu forms and others can be learned without problems.
-> more: Wushu
Foto Credits: shaolin-yuntai.com
Sanda (chinese Kickboxing)
Sanda, in simple terms, is said to be a one-to-one competition fight without weapons, between two people. The techniques include offensive and defensive elements: kicks, punches, as well as wrestling.
Sanda has similarities with the Kickboxing, K1 or Muay Thai, so watch out!
Through continuous training, the resistance of the athlete increases. Other physical properties are also improved, for example strength, endurance, flexibility and sensitivity. In continuous training, sanda strengthens bones, muscles and the body in general.
-> more: Sanda
Foto Credits: shaolin-yuntai.com
Tai Chi
Tai Chi is both martial arts and health system. It is rooted in Chinese medicine (meridians) and is practiced with the meditative aspect, focused on breathing. It combines strength and flexibility, hard and soft, fast and slow. It trains the sensitivity of the body to a high degree.
Because strength and flexibility are combinable, the Tai Chi can be used to defend, attack, strengthen the body, as well as to prevent and cure diseases. Tai Chi can be practiced by people of all ages, body shape and gender.
-> more: Tai Chi
Foto Credits: shaolin-yuntai.com
Qi Gong
Qi Gong teaches you to consciously control, boost, or recover your energy in the body. This is done through a variety of different meditative practices, which involves moving and siting meditation.
The Qi Gong is practiced for health care, as therapeutical application, as a medical profession, spiritual path and as a component of Chinese martial arts.
-> More: Qi Gong
Foto Credits: shaolin-yuntai.com
The Yuntai Mountain School
The school is located in a large national park in the middle of the Yuntai Mountains, surrounded by mountains, gorges, waterfalls and rivers. In the middle of nature, away from the kung fu schools where there are thousands of students, you will find the ideal place to train martial arts. Other attractions in the region are for example:
Red Stone Canyon
Tanpu Canyon
Zhuyu Mountain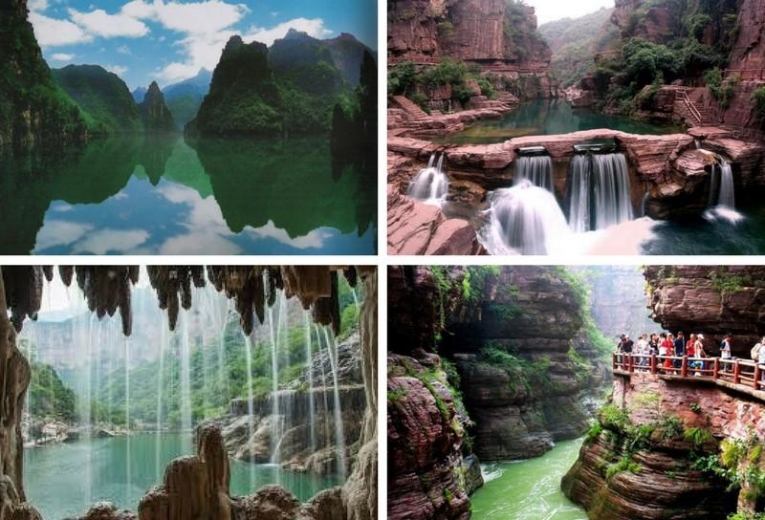 The residential building for the students was built only in 2015 and thus has the most modern equipment. The student rooms are bright, spacious and almost a luxury for chinese standards. Equipped with a private toilet, shower, air conditioning and TV, students have a pleasant stay during summer as well as in winter.
There are double and single rooms available (extra charge). The price includes training, the accommodation, as well as a full board (also for vegetarians).
Foto Credits: shaolin-yuntai.com
What to pay for the fun?
Like almost everywhere … the longer you stay, the the cheaper it will get in the long run. That is also applied in the YunTai Shan International Culture and Martial Arts School.
The following fees are applicable for stays of …
1-5 months     ==>          490 US$ per month (ca. 410 €)
6-11 months   ==>          470 US$ per month (ca. 390 €)
12-23 months   ==>       460 US$ per month (ca. 385 €)
+24 months    ==>         450 US$ per month (ca. 375 €)
For that you'll get …
Real, traditional Shaolin Kung Fu training
English speaking supervision by the master trainer and other trainers
Good accommodation (single bed, private toilet and shower per room, air conditioning, TV, internet, etc.)
Free transfer from Zhengzhou Airport or train station to YunTai Mountain International Culture and Martial Arts School
Highly qualified and English speaking Chinese martial arts instructors
3 meals per day, also vegetarian
Chinese lessons
Teaching in the Basics of Buddhism (optional)
Foto Credits: shaolin-yuntai.com
For these rates you probably can not even pay the rent for a shared flat in Germany. So, what are you waiting for? There is nothing that prevents you from your adventure in China!
For further information and bookings, you can visit the German or English website of the school. You will also find more detailed information about the school itself and, of course, the Chinese martial arts:
From my side, a lot of fun and success with your Kung Fu trip to China!
If you have any further questions or suggestions, then you can leave me a comment below. I will answer you as soon as possible!
You like this article? Then share it with your friends!