The last weeks it was a bit quiet on the blog again. The reason for this was, that I had once again several changes of location, but of course, I also trained properly.
The last four weeks I had been to none other than Namsaknoi "the Emperor". If you ask yourself now, "Namsaknoi, who is that again?", Then I recommend you to inform yourself quickly about the best Muay Thai fighters of all time, Namsaknoi Yudthagarngamtorn, so his full name, is definitely under the Top 10 can be found.
Do not panic, you do not have to research yourself, because I have summarized career of Namsaknoi for you in this article, and I have also created an review from my training at the new Namsaknoi Muay Thai Gym on Koh Phangan. You'll find all this below …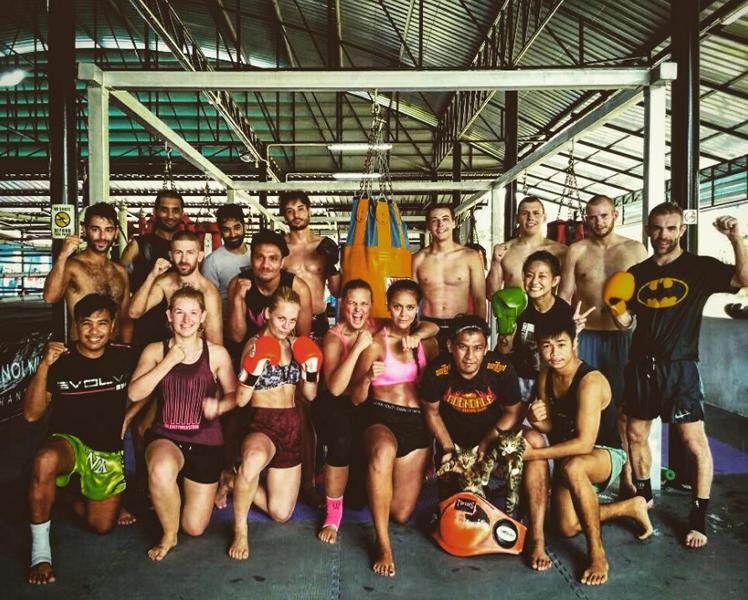 Namsaknoi "the Emperor"
Namsaknoi was born as Muhammud Chaiyamart in a small fishing village in Southern Thailand as the youngest of seven siblings. His parents had trouble earning enough money to feed the family. This was one of the main motivations for the eight-year-old boy to start with Muay Thai and thus generate an additional income for the family.
He made a good name in his early days in Southern Thailand, since he had already won many fights in his early career. Then, at 12, his coach took him to Bangkok to give him access to better training.
Namsaknoi spent the first years in Bangkok at the Kiatsingnoi Gym, where he fought his way up to the top, often competing against older and more experienced fighters.
At the age of 17, he already won one of Thailand's most prestigious titles, the Fighter of the Year from the "Sportswriters Association of Thailand". At this time, he was one of the youngest fighters to win this title.
Later, Namsaknoi changed to the legendary Por Pramuk Gym and already won all sorts of titles for the gym, before Muay Thai superstar Buakaw made the Por Pramuk famous worldwide. While Buakaw gained fame through fighting in the K1, Namsaknoi concentrated on the elite of Thailand. He won fights against Saenchai, Neungpichit Sidyodtong and many more.
At the Lumpinee Stadium in Bangkok, Namsaknoi was six years in a row the unbeaten champion in the 135 pound class, a weight class with top fighters in Thailand. Since he was sitting on the "throne of the Muay Thai", he was given the nickname "the Emperor". At the end of his career, he has one of the best fighting records of all time. In 300 fights, Namsaknoi won 95% of his competitions.
How could he achieve that? Namsaknoi is one of the best examples for a "Muay Femur", a Thaiboxer whose fighting style is based on defense, recognizing gaps and ring intelligence. Personally, I am convinced that this style is the culmination of Muay Thai. Because of this outstanding fight record and the impressive fighting style of Namsaknoi, I wanted to train with him, when I heard that he opened his new gym in Koh Phangan in October 2016.
Namsaknoi Muay Thai Gym
As mentioned above, the Namsaknoi Muay Thai Gym is brand new and was not opened until October 2016. Prior to that, Namsaknoi was a six-year chef for Muay Thai at Evolve in Singapore. Evolve is one of the world's most recognized martial arts schools.
You will find the gym on Koh Phangan, a holiday island in the Gulf of Thailand, which is world-famous for the monthly "Full Moon Parties". But that does not mean to frighten you now, there are quite quiet corners on the island and you can concentrate fully on the training, if you want.
The school is located just outside the main town of Thongsala, but is very easy to get there, as it is located on a well-developed street and is easy to see from the road. Otherwise, this video helps you out…
At my first visit, I was very impressed about the good facilities and the cleanliness. A whole army of punching bags, two large box rings, a large mat area completely mirrored, everything a Nak Muay is dreaming of.
The first welcome was also very warm. Basically each new student will be introduced to the other pupils, as well as the trainers, after the first training to break the ice.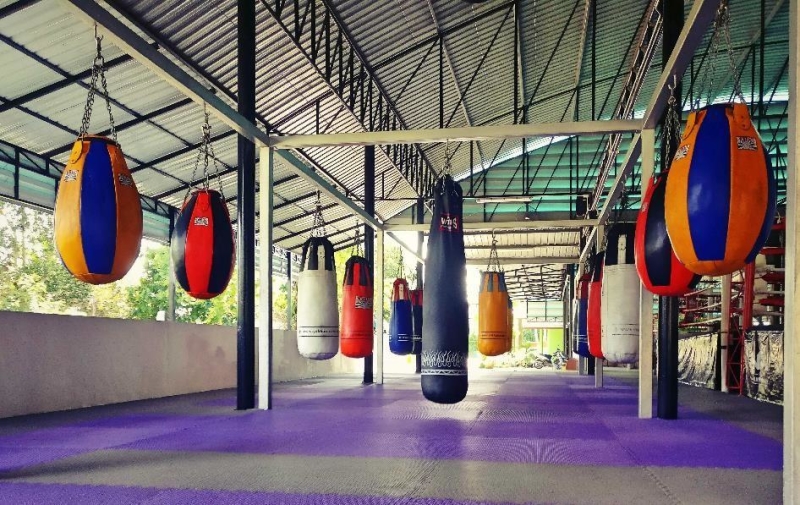 We trained as usual from Monday to Saturday. Sunday is rest day. On the training days, from 8:00 am – 10:00 am and in the afternoon from 4:00 pm – 6:00 pm. The training is usually splited as follows …
3 rounds of 4 minutes shadow boxing
4 rounds a 4 minutes of pad work
4 rounds a 4 minutes boxing at the bag
4 rounds of 4 minutes of Muay Thai combinations on the bag
30 minutes of clinching
200 knees
200 frontkicks
5 minutes shadow boxing
stretching
On Wednesdays and Fridays, the sparring sessions take place, but there are no pad and bag rounds than.
The trainers pay close attention to beginners as well as experienced fighters that they have implemented the techniques to 100%. So far the best gym in Thailand, with an eye for the details, in which I have been so far. Here you can definitely bring your technique to a another level, when you have the time and stay here for a while.
All trainers speak English, which is not necessarily the standard in Muay Thai Gyms, but it helps extremely, if one can communicate. The quality of the training is very cared about. This is also noticed by the fact, that no one is pushed to fight. On the contrary, the Chetrainer Namsaknoi decides personally whether you are ready to fight or not and if he tjinks you are ready, then you can be sure that you are.
In 90% of the Muay Thai Gyms in Thailand this is unfortunately not the case, you are more likely to be pushed, even if you are not yet ready, as financial interests exist. This is not the case at Namsaknoi Muay Thai.
The very good quality, of course, also has a higher price. Namsaknoi is almost twice as expensive (17,000 baht per month) as the usual price you find in Thailand. But please think about the following… If you are anyway in the area, can you afford to not train at Namsaknoi? If you want to practice Muay Thai reasonably and bring your technique to the next level, invest a little more money, learn something decent and take this new knowledge home with you. The quality is definitely worth the price.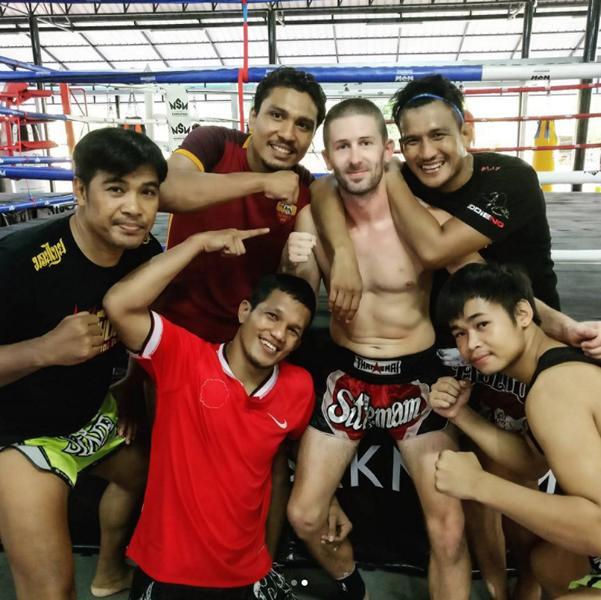 A short summary of Namsaknoi Muay Thai:
Training: Top
Equipment: Top
Price training: expensive
Price accommodation: expensive
Other activities: Beach, diving, party, waterfall
For me, Namsaknoi was one of the best Gym's so far in Thailand and I was able to take a lot with me despite the  knowledge of Muay Thai I already had.
The coaches as well as the other students there were all super nice in my time there and I can not say anything bad. I can just tell you to spend your training vacation here or even more.
If you have any further questions or suggestions, then you can leave me a comment below. I will answer you as soon as possible!
You like this article? Then share it with your friends!