It continues on the world tour in the name of martial arts. The last four articles were about Europe. It started in Germany and then over Austria, Slovenia, Croatia, Montenegro, Albania and Greece.
All in all, I was on the road for about three months, until I traveled from Greece to Turkey and left Europe indefinitely. Before the next article about Turkey continues, you can check out the previous articles from Europe, if they are interesting for you.
Part 2: Croatia, Montenegro & Albania
Before we start here, let us take a short look at my itinerary …
From Rhodes (Greece) I went by ship to Fethiye on the Turkish Aegean Sea. Continued to Side and hitchhiked to Konya. The bus then brought me to Cappadocia. The route Cappadocia to Erzurum, in eastern Anatolia, I hitchhiked and took a bus. The same applies to the last station Doğubeyazıt, in the Kurdish region of Turkey, on the Iranian border.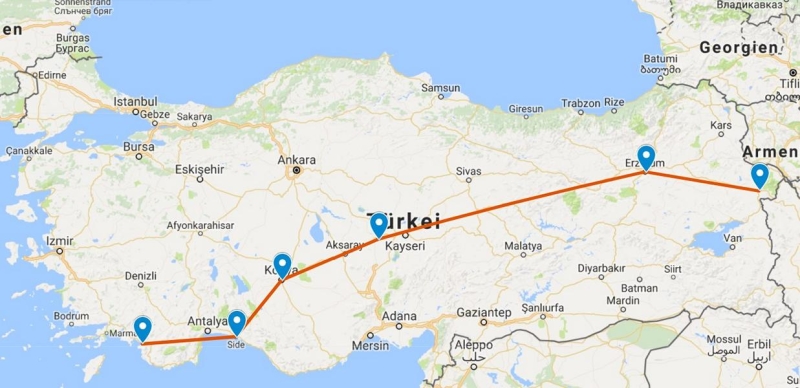 My first destination in Turkey was Fethiye. It went to a hostel, because I was not successful in finding a couchsurfing host. Somehow, there were only guys in the area and they had only references from female surfers … a bit weird.
Well, but no problem, so for the next three nights I stayed in a hostel, which was not far from the harbor. There I met the usual clientele as in Europe. Young Australian, English or American backpackers in party mood. I had not expected that in Turkey.
However, the coast around Fethiye is one of the most beautiful in the Aegean Sea, which explains the visitors. The hostel was not a modern hipster thing with a co-working atmosphere, but definitely had its own charm. Maybe this was also because of the owner Ibo, but later more about this expert.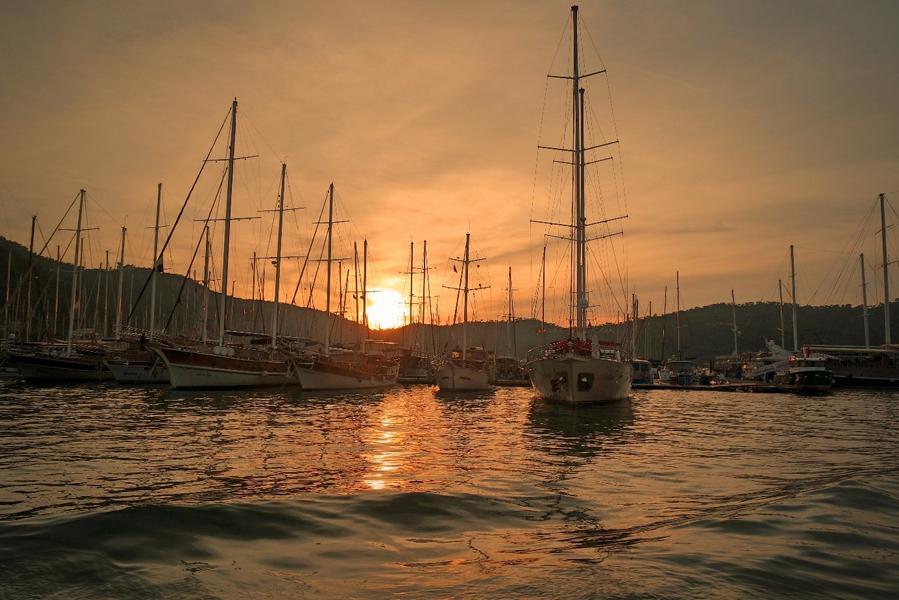 Oludeniz, a few miles from the hostel, is world renown as a paragliding paradise and as this was on my to-do list, my Canadian buddy and I decided to take the flight. Of course tandem.
We were picked up from the hostel and then we started. In the rear of a Fiat Ducato, without belts, up the mountain, with about 100 km / h. To the left and right it went steeply downhill. During the trip, I was already pissed off, because we were treated like cattle and they only wanted to collect the 60 € per person as fast as possible.
Arrived at the top it was said then, no own cameras. Photos and videos with the pilot's camera costed another 60 € extra. I refused with gratefullness, my colleague agreed. The result of this agreement was, that within 15 min I was back on the ground, my friend was in the air for over one hour. Regards from Thailand, to the pilot… YOU SOON OF A BITCH!!!
For 10€ under the table, I could take my photos and videos with my camera. In addition to the bad treatment, the shitty service and the fucked up pilots, I can recommend the paragliding in Öludeniz in any case, because the landscape, coast and views are really amazing.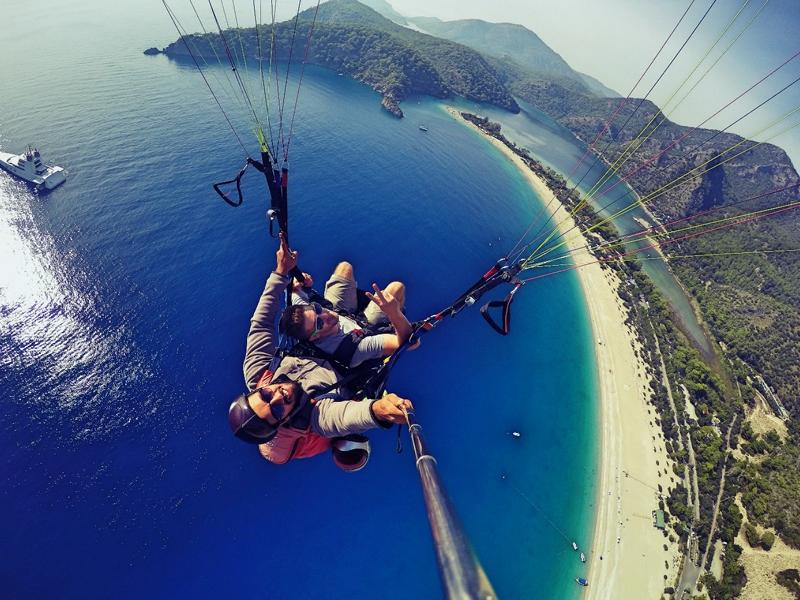 After the trouble with the para gang, we could organize for ourselves how we get back to the hostel. So fingers out and we hitchhiked back.
In the evening we had some beers. At some point Ibo, the hostel owner, came  over to us and asked if we wanted to go and buy cucumbers and tomatoes with him, in the evening at 10 p.m. … it should take only 15 minutes. That started the night.
Also part of the tour was a young Colombian girl. The four of us went to the greengrocer. There we got only beer. Then we went to the sea and somehow always further and further. Ibo was getting more and more drunk.
After a while, he said we were invited to a wedding. But we have to get a fresh breath, as we could not smell like alcohol, so he splashed us with some gel all over. He also said, we should not ask for alcohol at the party. Ok no problem, so lets go to the wedding, which took place in some restaurant.
Once there, what did Ibo do? Sure … first order beer, no plan whats wrong with this guy. We quickly drank up and then he dragged us to the dance floor, where the danced like whirling dervishes.
Each time we came within a 5m radius close to a woman , Ibo dragged us back and warned us that this could have fatal consequences. The other guests there seemed not to be disturbed at all.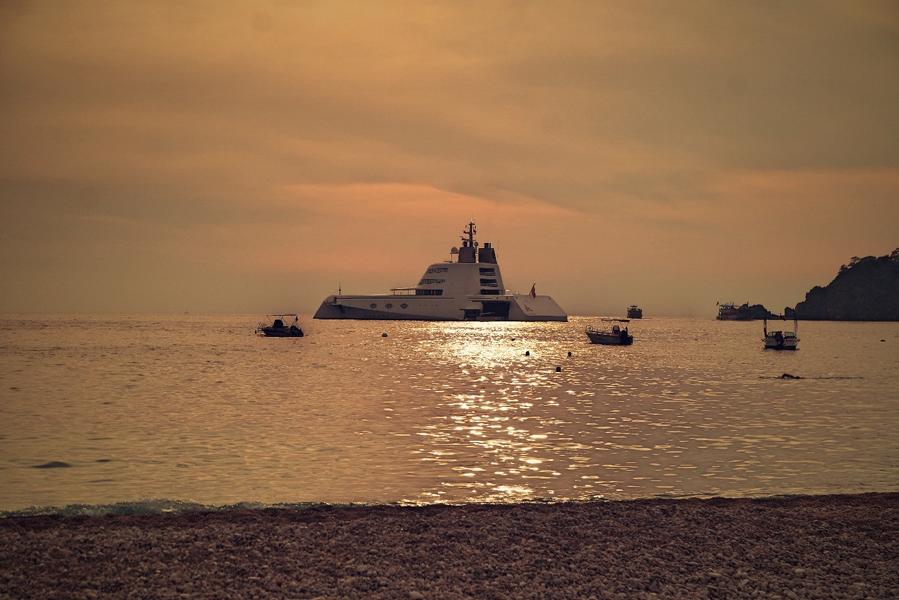 After a while we continued, we had forgotten something, cucumbers and tomatoes. But this time there was only beer again and the tour continued. Further and further away from Fethiye, the driver became more and more drunk and littered with himself all the time, apart from the serpentine lines he drove.
We had a queasy felling already in the back seat for a long time, when we were finally able to persuade him to drive back. At 6:30 a.m. we were back, without cucumbers and tomatoes.
That was my first impression of Turkey and it should get "better".
From Fethiye we went on to Side. About Side there is not much to report, except that everything is in German. A typical all-inclusive holiday destination with hotel complexes and all sorts of grotesques that nobody needs.
The reason why I stopped there, was the announced world championship in Pankration (Greek martial arts), which, for some reason, did not take place or just nobody knew about it.
From Side I hitchhiked to Konya, as I was told, the most conservative city in Turkey.
It did not take long, before a car stopped with two young guys on the direct way to Konya. The conversation was via Google Translate, but the ride was very relaxed and one thing I have to say, the people in Turkey are very welcoming, the boys drove me straight to the door of my couchsurfing hostess.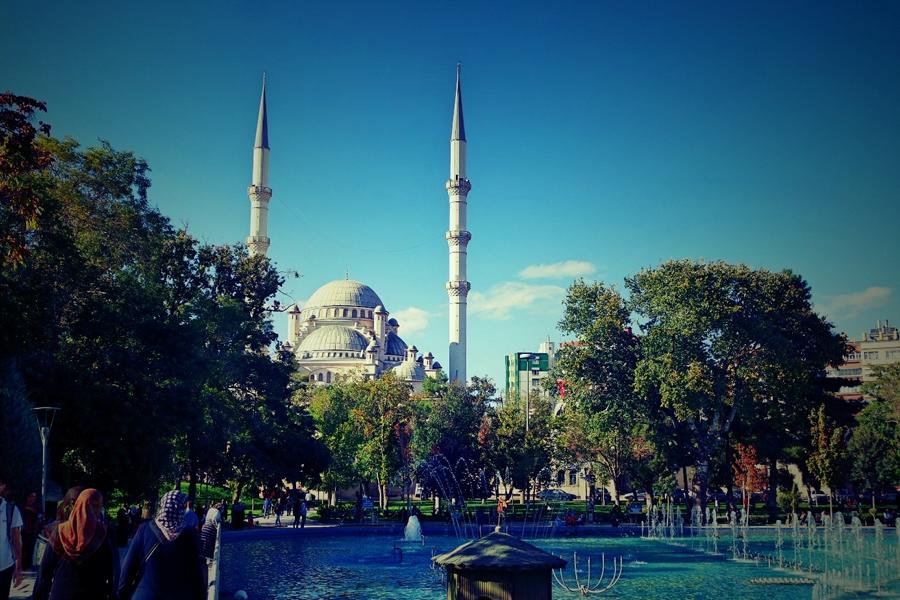 The mix of the most conservative city in Turkey and couch surfing with a 21-year-old girl did not seem so suspicious to me before, but I did not care too much about it. What came then, however, completely reflected what is wrong with the young Turkish society in my opinion. But more later …
The apartment was located relatively far out of the city center, near the university. Accordingly, many young people from all parts of Turkey were accommodated here. The apartment was clean and comfortable, this should become completely different later in Turkey … completely different!
So how did it happen that I was hosted in Konya by a 21-year-old girl? I can only describe it in one word "hate".
Hate for the Turkish society, traditional norms and the image of man and woman in Turkey. At first, in my opinion, it's good to rebel against obvious grievances, but the young lady's behavior and manipulations were a test for me, so at some point I just packed my stuff and ran away while she was in college. Actually, my plan was to stay in Konya for only 3 days, but in the end it was 9 days of constant manipulation before I left.
I fled to Cappadocia in Central Anatolia. This region is one of the tourist highlights in Turkey and world famous for its rock-cut cities. A real highlight of my trip to Turkey and exactly what I needed after the Konya disaster.
If you have always wanted to take a hot air balloon flight, then Cappadocia is the place to go. It starts in the morning at sunrise and you will see an unforgettable picture, when hundreds of balloons rise in the sky. Not quite cheap with about 120 €, but probably unique in life. Definitely one of the most surreal landscapes I've seen so far.
After a few days there, in the rock cities, it drove me further to the far east of Turkey. To Erzurum, because I wanted to apply and pick up my visa for Iran. First by hitchhiking to Kayseri and then by night bus to Erzurum, the largest city in eastern Anatolia.
First I was not successful there to find a Couchsurfing host, so I went to a hotel, where the room stank of piss. The current elections in Turkey were on TV. Over 80% for the AKP in Konya, good that I was out of that dump.
In the morning I went to the Iranian embassy, ​​which of course was not at the address where it should be. So I had to find my way. Arrived in time at the embassy, ​​I met Yunus, who at first did not notice me. Yunus then spoke to me in minimal English, if I had written to him on Couchsurfing. I just said yes, because I had no plan who he was. He offered me to come to the apartment were he was living with his friends. Lucky again, because the hotel, which stank of piss, costed 25 € the night.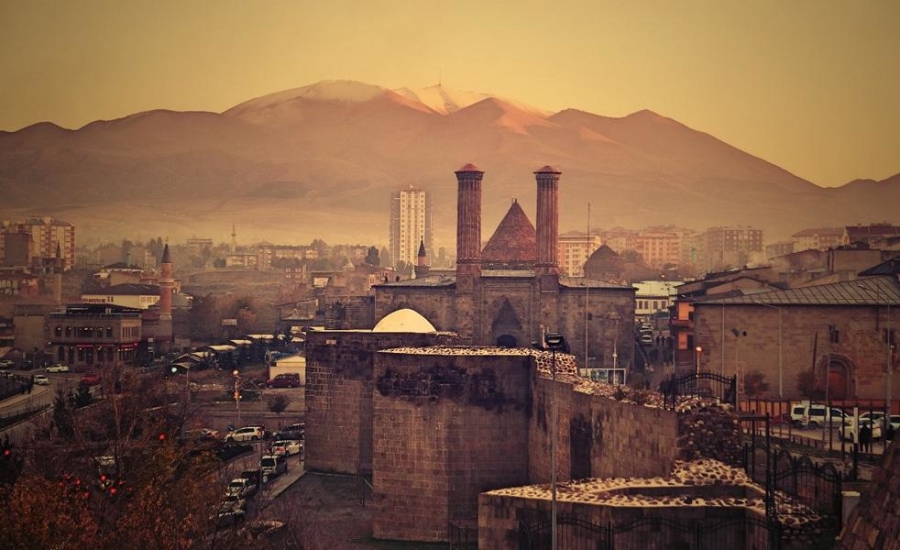 Yunus lives with his five friends together in an apartment near Ataturk University. Besides me, there were two other couch surfers. Now you can imagine how a flat looks like, when there are 9 young guys who are all highly dependent on their mothers. Sure … like shit and 10 times worse.
I have never seen an apartment with so much bulky waste. I would have liked to call my friends from Bauenschutz Diefenbach to clean up there. One evening I went to the bathroom, which was quite large with about 20 square meters. The entire floor was covered with dark body hair, like a carpet. One of the lads got rid of his entire bodyhair and distributed it neatly and evenly on the floor.
But I have to say, I really liked it there. It was quite masculin. For dinner there were often fries, pasta and bread mixed up, in addition to tea and cigarettes of course. There were wrestling matches in the hallway, so I also came to train, in my time there and of course we talked bad about women.
One day I climbed to the peak of the nearby mountain, the Palandöken, which sits 3271m above the city. For the ascent and descent I needed a total of about 12 hours and met no one on the way. Only the tracks in the snow of wolves indicated life. The view from there confirmed that there was almost nothing, on one side was the city and on the other only mountains and nothing as far as the eye could see. Beautiful!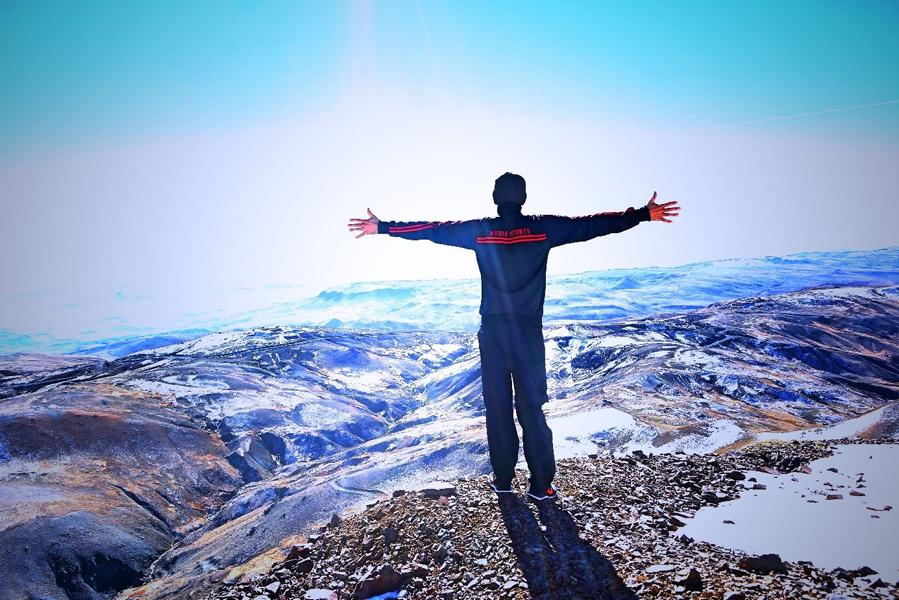 One evening one of the guys said to me, "Tomorrow, we go mountain!" I thought, ok, we'll go hiking tomorrow. When we left at half past 6 a.m. and I heard the muezin from the mountains, I knew something was going on here.
When we got closer to the mountain, there were more and more people. Thousands of people ran up the mountain, all with the flag of Turkey and the announcement of radical, aggressive-sounding slogans. I knew then, that I was in the middle of a Turkish nationalist memorial day. It was celebrated, that Armenia accepted the conditions for a armistice. It was not a memorial day that brought peace between Turkey and Armenia.
On the mountain were hundreds of young girls, all shouting in the chanting "Allah Akbar", often totally packed, not in hijab but in a niqab. It was very interesting to be there, but the general mood rather made a very aggressive, nationalist, fundamentalist impression, rather than civilized and freedom of speech, as the Turkish government would like to sell it.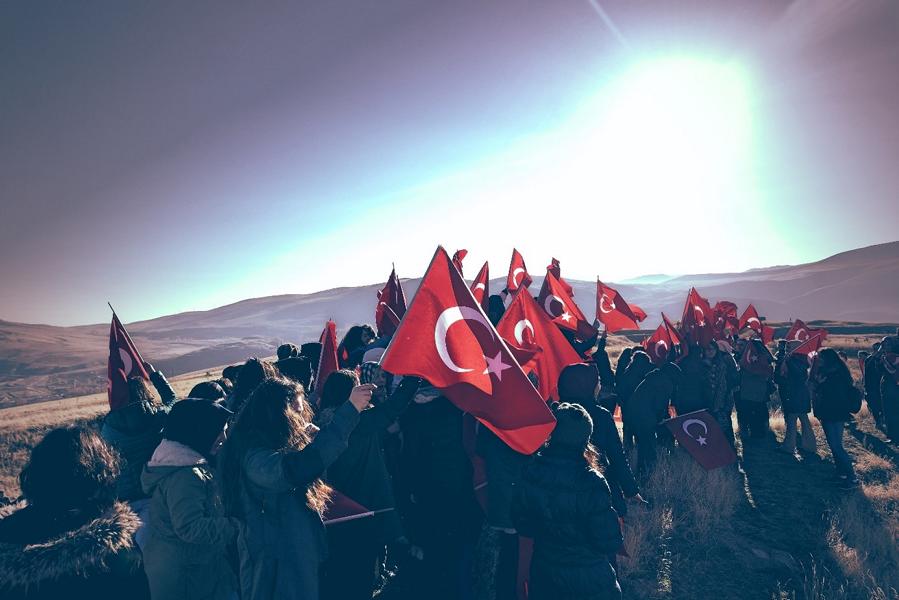 The area around Erzurum is really adventurous. Here I felt for the first time, as if I were moving on the Silk Road,  in a caravan. But it should go further after a week of good experiences. Further to the far far east of Turkey, to the Iranian border. Doğubeyazıt. Kurdish region.
The journey had to be hitchhiked again, as there was no connection with public transport to this area. But I got, as usual in Turkey, a quick ride. This time, a truck driver from Istanbul, who was on his way to Kyrgyzstan, took me with him. On the way, he realized that he still had a few beers and that we had to drink them quickly, before he gets to the Iranian border, otherwise he would have a problem.
In Doğubeyazıt he threw me out, about 15 km from the Iranian border. The city is dirty, dusty and except for smuggling and military not so much going on, except that in the background of Mount Ararat rises in the sky. According to the Bible, Noah's ark is supposed to have been stranded there. However, it was already in the middle of November and impossible to climb the mountain with almost 6000m.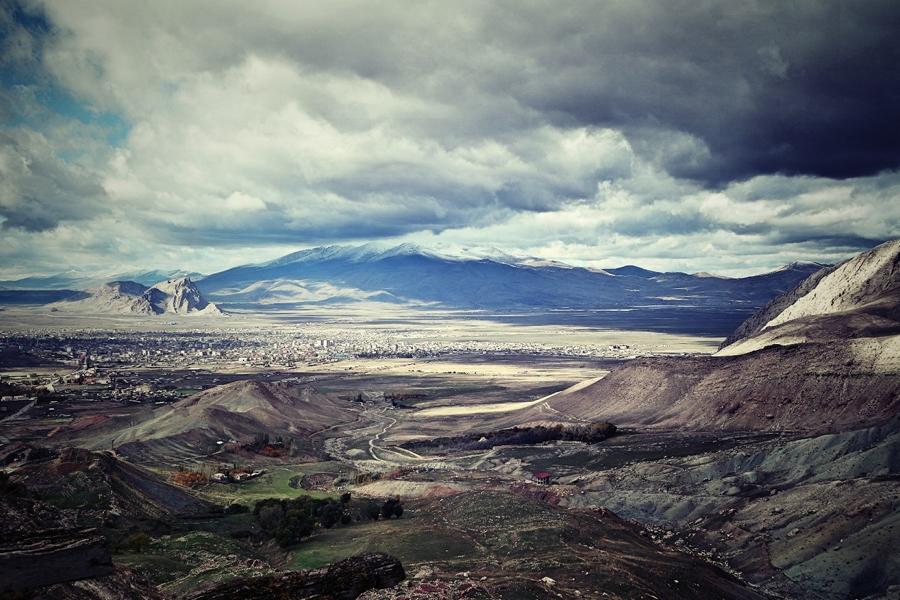 Also here in Doğubeyazıt I had a couchsurfing host again. A young teacher from central Turkey who was transferred to the far east of the country, probably to teach the Kurds Turkish doctrines. Next to his apartment was the police station, which looked like a high-security wing. Armored vehicles, NATO wire and officials with machine guns.
In the city itself, the trade in foreign currency, gold and probably everything that can be smuggled flourishes, so you can often see here big cars in white colour, but which are covered by the dirt of the street directly after the washing. Moving out of the city, you get to a military area, it looks like in a warzone. If you walk a little further, you will find people living in simple stone huts. These impressions can be seen in wallking distance about 3 Km from the city center.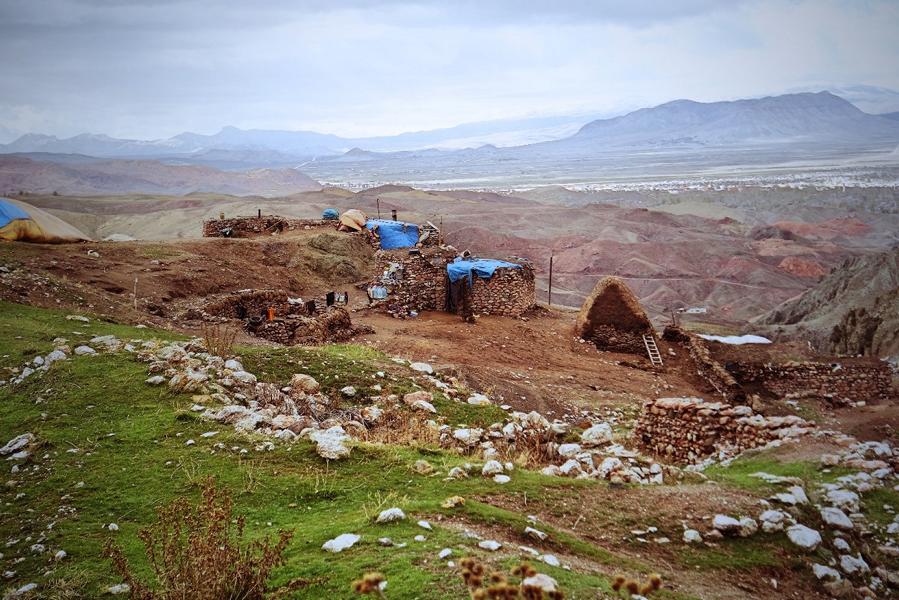 One day I went with my host to a football game of his school class, which was against another school. All boys between 13-15. The classmates were sitting on the ranks, so they were the same age. The police were, however, present with over 20 officials who were highly armed. Showing strength is probably important here, even in front of children.
The game itself was very civilised. When the match was over, things changed. I did not know what had happened, but suddenly the jealing started and the bastards shot directly into the ranks with tear gas. At kids, boys and girls. In the end it turned out, that someone spitted. So much to proportionality.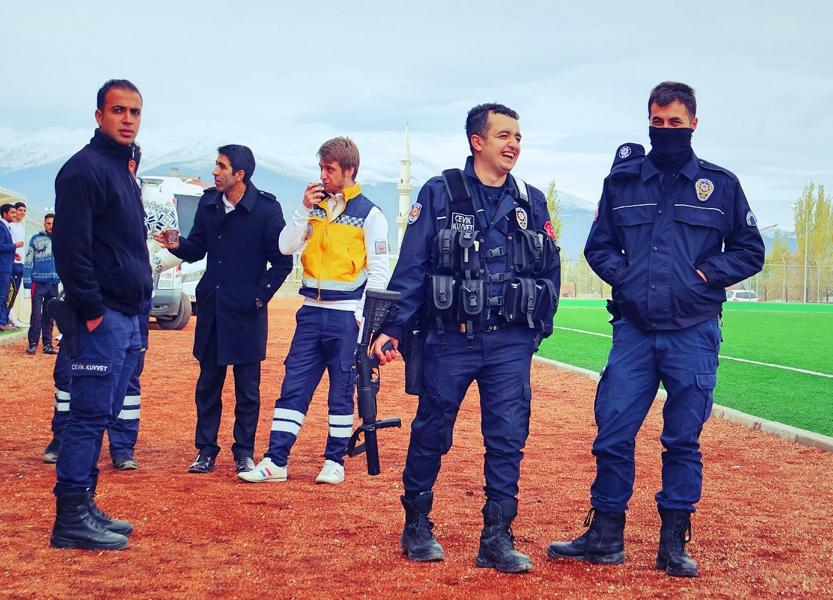 Martial arts had been left behind in Turkey, due to communication problems. Here, in Doğubeyazıt , I found a gym in which had kickboxing. There I trained 2-3 times with the men and boys. Most recently, when the terrorist attack took place in Paris, during the football match France-Germany.
There, far from home, among Muslims, without communication possibilities, I realized one thing. There is something that brings people of all races, religions, beliefs, sexual orientation or genders together in peace … Sports. That's why I do martial arts and dont give a fuck on politics. I prefer to make the world a better place for everyone, rather than just enforcing my own interests.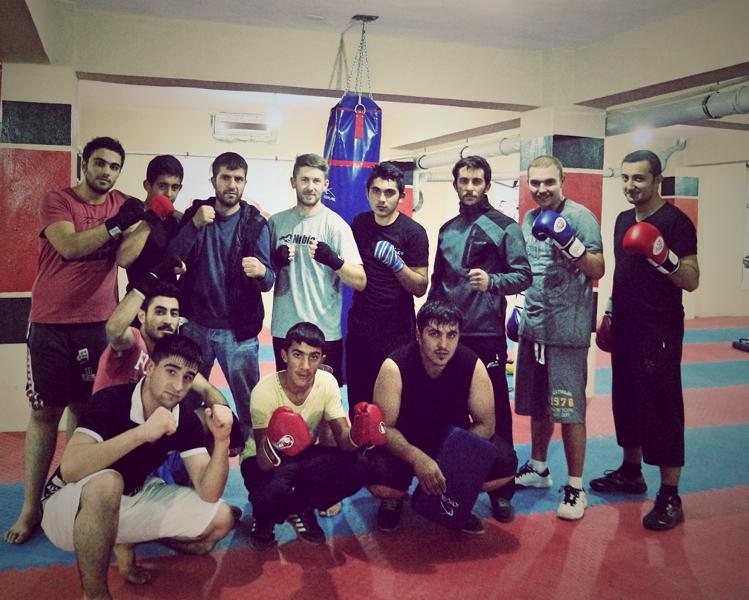 In retrospect I have to say: Turkey, you will not see me again. The country is beautiful and the people are very friendly. But the politics, the society and the system are fucked up and it only got worse after my time there. I have to say very clearly, there is no other country on my journey so far, where I say I will not return. So you can imagine that I have good reasons for the above statement.
After almost one turbulent month in Turkey, I went to the Iranian border, full of curiosity for this, so far, unknown country among western people. To party it is definitely not the best country, but I can tell you in advance that Turkey and Iran were really opposites for me, what I had not expected.
In the next part it continues from the northwest of Iran, to the Persian Gulf. See you.
If you have any further questions or suggestions, then you can leave me a comment below. I will answer you as soon as possible!
You like this article? Then share it with your friends!