I have recently noticed that I have been traveling around the world for over two years now, in the name of martial arts. In these two years, I have mostly reported on a wide variety of martial arts, and have written a lot of articles on it's aspects.
But after about two years, it is time to summarize something. In the next few weeks, I would like to take you on my trip and bring to you the highlights of the last two years, that have been in secret.
Last week w were already at the first part of the trip. Western Europe, Germany and Austria.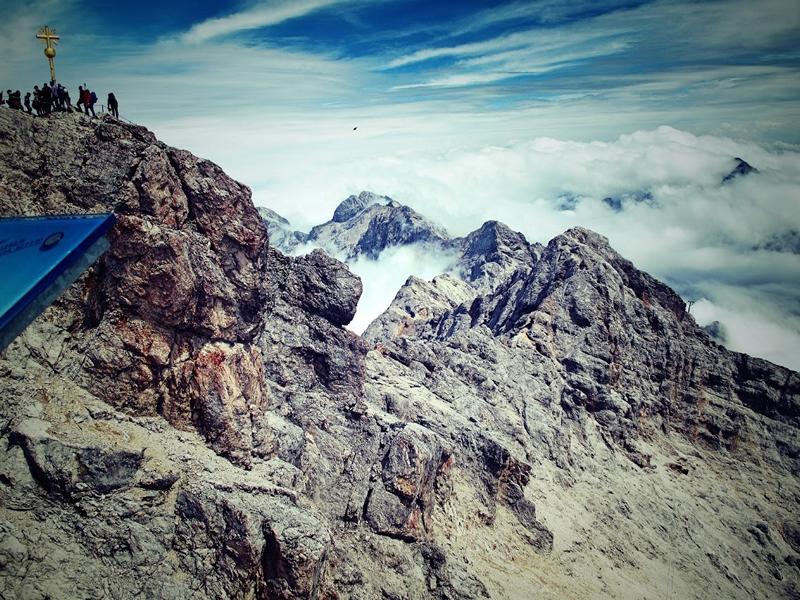 From Graz, I went through South-Eastern Europe in August 2015. I visited Croatia, Montenegro and Albania before going to Greece for a month.
Today I have written down this part of my trip for you … Have fun reading!
Croatia, Montenegro und Albania
Beauty of the adriatic coast • Meeting a combat sports legend • CoWorking Space in nowhere •  National football game in Albania

Until Graz, the trip was almost completely accompanied by my friends. This should change with my bus trip to Zagreb. It took a few hours through the rain to Zagreb and from there to the Plitvician Lakes, UNESCO World Natural Heritage and a highlight in Croatia.
For the first time, on my world trip, I moved into a hostel room with 11 other mates. Canadians, Amis, Germans, Australians, English … all mixed, from the first world. The evenings were typically spent drinking one or the other beer and talking about where you were and where it are heading to. But everything still relatively quiet here.
Then I spent one day watching the Plitvician Lakes. The national park is beautiful, no question. But when I have to be in a queue outside in nature, I become aggressive. In summer, about 25,000 people visit the lakes every day, definitely too many to experience the breathtaking nature in an authentic way.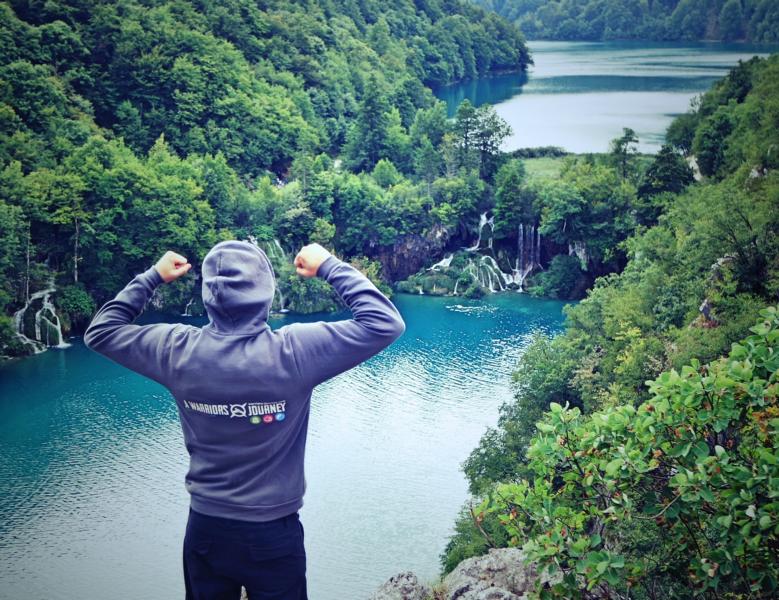 After the Plitvician lakes were done, I went on to Split. From rain and 10 ° C to sunshine and 30 ° C att he Dalmatian coast. All in all, I spent a week in the city, again in a hostel.
Here the clientele of the guests changed, to the one who was to accompany me until west of Turkey. 18-22 year old groups of Australians and English. Every night drunk, even though they had a cold,  they simply drowned it in alcohol and dragged on.
I went there for the first and the last time in my life to a "Pubcrawl". It sounded quite nice at the beginning, but if you drink with about 200 retarded British and Australians, which are almost still puberty, then the my  mood changes from peacfull world citizen to angry german. That is why I left the battlefield after an hour and drank two beers in the harbor just by myself.
Apart from the hostel live, Split was a truely pearl. Beautiful old town with roman flair and crystal clear water on the beaches.
Here I also met the combat sports legend Branko Cikatic, a name you should know in full contact sports. Branko won the first ever World Championship in K1 in 1993, which made him famous. His entire life was dominated by combat. First full contact karate, then K1 kickboxing and in the end also a little bit of M.M.A.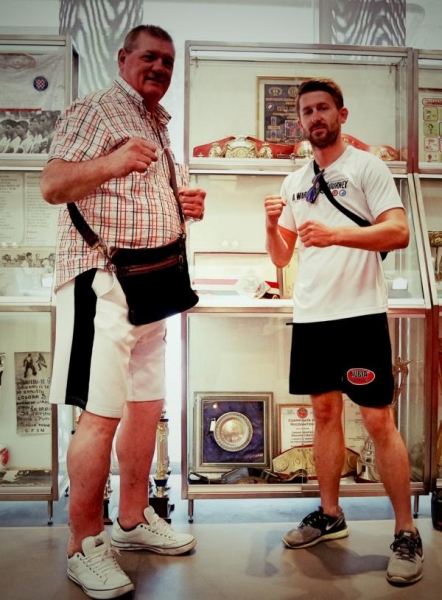 He fought in more than 270 fights in his career, which of course is visibile on his body. When I saw Cikatic, I realized for the first time that competition is not everything. I also want to be healthy and fit at 60 and not destroyed so much by the sport, that I can not move properly. That is why I think competition is good, as long as you know when it is enough.
Next station was Dubrovnik. I think I had never seen such a beautiful city before. This is known probably also by the locals, so my dormroom, in a musty cellar, without windows and daylight also costed 25 € per night. But it should only be two nights.
At this time, I've never seen Game of Thrones, so I was a bit perplexed about what was going on in the city. Meanwhile, I know also "kings landing" and recognize some spots from the city.
The best for me there, was the sunset from the house mountain "Srd". You can take the cable car up and enjoy the view of the city, the Adriatic coast and the sun disappearing in the sea.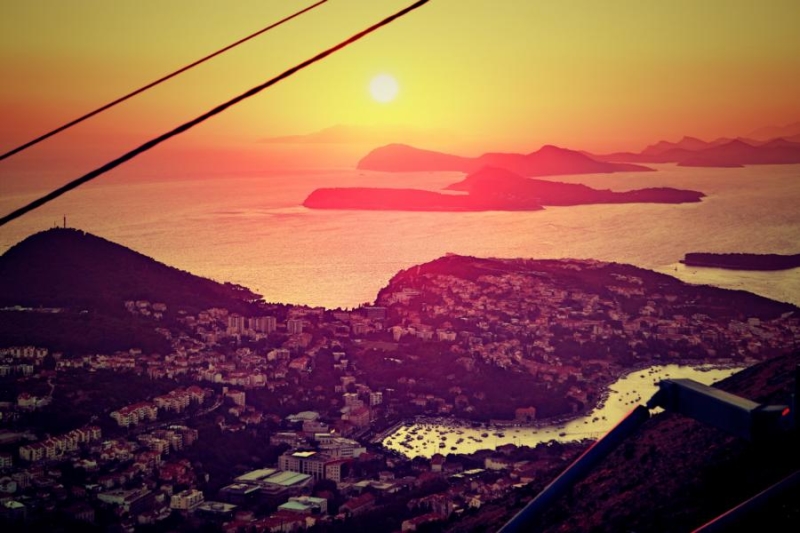 When we went down in the dark, some cult came up, which stopped every five meters and muttered prayers or something like that. This was a bit weird, but obviously we survived it.
I went on to neighboring Montenegro. There I was in contact with an entrepreneur who was actually looking for a mechanic to ship a vessel to Greece in a shipyard. When I got there, it turned out that the vessel was not seaworthy, but he wanted to open a co-working space in a 200 people village and I should help him with the branding.
I staned this a whole week and then I went on, because the owner himself left after two days to Spain on a holiday and let me thwew with a few Russians, who were not really into conversation. In addition, the guy in his "Coworking Space" had a connection for 5GB !!! per month only. Best conditions to work there online. 😀
It is to mention that the bay of Kotor is a really cool holiday destination. The beaches and bays are great. In the countryside the mountains shoot up, it is very cheap there and you pay with Euro. Montenegro is in many places still very quiet and not overrun. However, there are also a few destinations here and there, for example Budvar which are very popular by Russian tourists and therefore somewhat more crowded.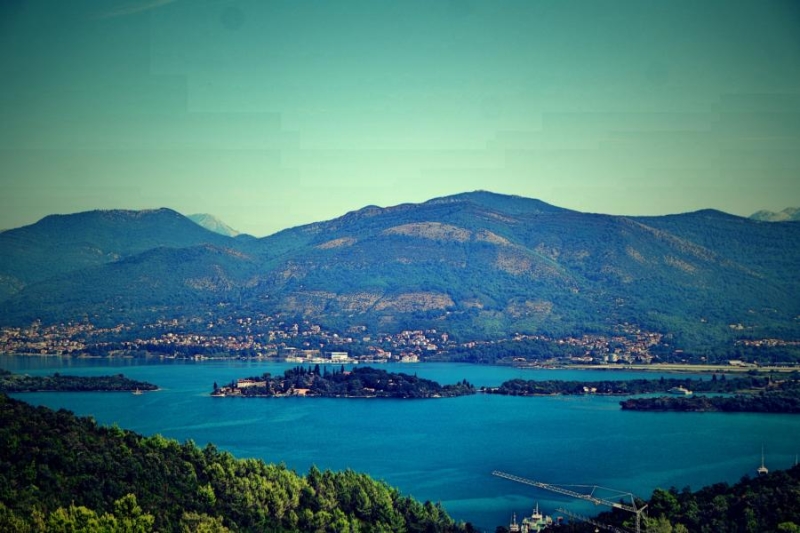 If you are looking for an outdoor and active destination, Montenegro is definitely my recommendation.
Before continuing to Albania, I made a short stopover in Ulcinj. A holiday resort on the coast of Montenegro on the border with Albania. Here, for the first time on my trip, there were more mosques than churches, and the muezzin called for prayer. I noticed that now slowly but surely the cultures are changing.
In general I did not like Ulcinj to much. It is a typical holiday resort for tourists from the Balkans. The beach promenade looks a bit like the Phantasialand and the music, which comes from the pubs and clubs is pretty similar to"dragostea din tei".
As my next destination was planned Tirana, the capital of Albania. However, there was no proper connection there and I was told, that I have to take a private taxi to get to Albania. But I did not really wanted to do that so I decided to hitchhike.
There I stood, my thumb stretched into the road  The only cars that stopped were those shitty private taxis. When I almost gave up, a BMW X5 with a Kosovo Albanian insurance plate passed by very fast. I just thought … what a fucker. Of course, this car stopped and let me in.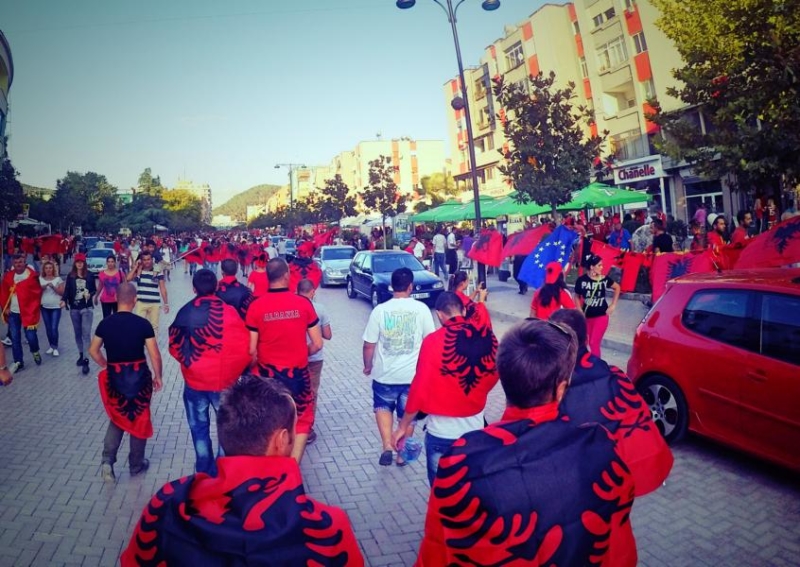 There were three young men in the car, traveling from Kosovo to Albania, who were up to take me with them. First I was not sure about them, but it turned out that the driver was reasonable and the guys were correct. Even if we could hardly communicate.
They were on the way to Elbasan, another city in Albania, where the Albania – Portugal international match took place. I have not thought about it for a a minute, and was shitting on Tirana and I went with the guys to the football match.
I do not know if there is anything else great to see in Elbasan, but this evening the city was in an exceptional state and everything was in black and red. Almost as the Frankfurer Eintracht, only more peaceful.
There was a feeling as if Albania had won the World Cup, losing 1: 0 against Portugal in the European Championship qualification. Nevertheless, there was a huge celebration in the city center with Autocorso and what is part of it.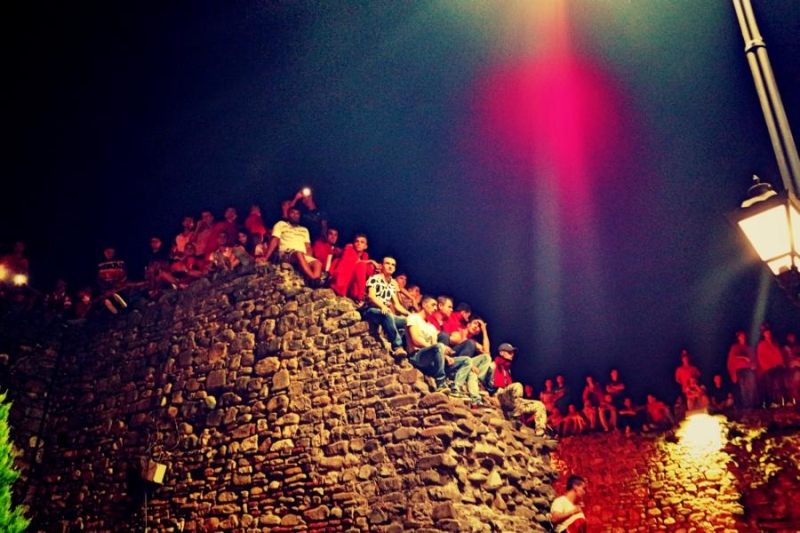 The further journey through Albania brought me to Berat and Saranda. You travel in Albania in mini vans who are always packed up to the top before it starts. The landscape in Albania is almost surreal beautiful and the people there are extremely friendly and accessible. Only the system of "to queue" does not exist here.
In Albania, there is still a lot to discover and the trails here are still more unbeaten as in other holiday countries. I have felt safe at all times and I can not confirm the fears of some people back home. I would go back to this wonderful country at any time.
From Saranda I escaped to Greece, because my travel companion in Albania was somehow a bit to suspect. But there is more to this in the next article, which will deal exclusively with Greece.
Greek hospitality and Greek wine, the battlefield of the legendary 300 at Thermopylae, Greek ancient martial arts (Pankration) and Island hopping in the Aegean sea, this and more will be subject in the next post.
If you have any further questions or suggestions, then you can leave me a comment below. I will answer you as soon as possible!
You like this article? Then share it with your friends!